~ Eleanor Russell ~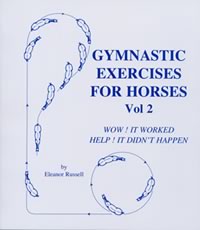 This book aims to tell you how to build up your horse as you train him and how to cope with the problems along the way. Exercises for Green horses to Grand Prix. Each section complete with ' HELP ! It didn't happen" assistance.
140 pages, more than 65 exercises of brief easy to follow diagrams and text written in basic rider's language. The diagrams are simple to follow with emphasis on imaginatively changing these exercises to keep you and your horse working in a happy and interesting way.
Price is $59.95 AUD
(This includes GST and postage in Australia overseas P & P Econo Airmail 10$US (guaranteed in 2 weeks))
Testimonials

"Book arrived, saw the exercise for canter pirouettes, rushed out, did it on my medium level horse and it worked! Bloody marvellous!!" Robin (Australia)
"Thank you for the simplicity of these brief easy to follow exercises. I just love the' Help!' sections" David (USA)
"Brief, easy to read, and easy to follow" Mary Lou (USA)
Stop Press!
Seen our Add in Horse Magazine? In 1985 Eleanor Russell published Gymnastic Excercises for Horses which became a best seller. Now we have VOLUME 2 which includes the diagrams from volume 1. and the long running series of articles in Hoofs and Horns, which each month, had a' HELP ! It didn't Happen' section.

---