~ edited by Eleanor Russell ~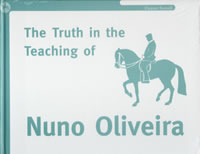 "In truth Nuno Oliveira returns in this beautiful book and his words echo off the pages. This is the great Nuno Oliveira, there is no interpretation or distortion of the words it is truly an accurate account of his teachings, the memories came flooding back as I looked at it. The book is a must for everyone who has ever loved the Horse and Equestrian Art. The world acclaimed lightness of Oliveira and his real love for the horse is captured in the photos and the teachings of the greatest artist and trainer of the horse world."
From a review by Jayne Howley (Long Time Student)
Superb colour photos of Nuno Oliveira. Unposed moments in training at his home in Avessada, Portugal. Over 70 pages of never before published colour photos and training principles in the words of Nuno Oliveira. The text is transcribed from Eleanor Russell's notes and faithfully recorded quotes from Nuno Oliveira taken over the 10 years Ms. Russell was his student. "The photos of Nuno are particularly refreshing, especially as few (if any?) of them have ever been seen before. I think you have done the equestrian world a great service in writing this book and I am sure you will enjoy a huge success"
Sylvia Loch Founder of Classical Riding Club Author of "Dressage in Lightness" http://www.classicalriding.co.uk
"Just Fabulous" - Heléne Arianoff, International Dressage Trainer, Belgium
"Congratulations, I think the book is top class - good photos, script is so Nuno... the key chains are special!" - Judy Montgomery-Moore, International Dressage Judge, Bermuda.
About Nuno Oliveira
Born 23rd June 1925. Died 2nd February 1989. NUNO OLIVEIRA, by his tireless work, study, and belief in the Classical Principles of the art of training horses provided the link with the Great Masters of the 16th, 17th and 19th century in Europe, and the changing and expanding world of the 20th century.
Nuno Oliveira taught and trained all his life, based originally in Lisbon, and later in Avessada, Portugal. He gave numerous performances with his beautifully trained horses throughout Portugal, often for charity. In the 1960's and early 1970's, he travelled to many countries in Europe and the United Kingdom to give demonstrations of all Classical movements. He also travelled to the United States, South America, and also to Australia and Asia giving training clinics and performances.
He was regarded world-wide as the last of the Old Master Trainers, always devoted to the principles of the Classical Trainers of old. All of his life Nuno Oliveira studied and practised this equestrian art, demanding of himself and his students discipline, calmness and always absolute correctness, in all movements the horse performed. Nuno Oliveira rode like a King, and always his horses carried him like a King. Neither circumstances nor fashion ever deviated him from his beliefs.
His equestrian school/home was located in Avessada, a small village in Portugal, where he trained his own horses as well as visiting students, who came from all corners of the globe to learn from the Master. Nuno practised his life's work invariably listening to a recording of a great tenor singing a Puccini or Verdi opera, his other great love.
He travelled the world giving clinics and teaching riders who became, not only dedicated students, but good friends. More than a decade after Nuno
Oliveira's death, these friendships have developed into a world-wide network (including organisations like the Classical Riding Club) active in promoting Classical Principles in training horses.
To quote Nuno Oliveira...
"Equestrian art is the perfect understanding and harmony between horse and rider".
---